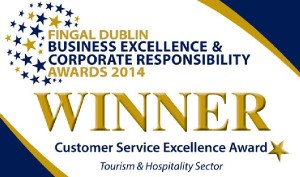 Malahide Castle & Gardens have won the "Excellence in Customer Service" award in the Tourism & Hospitality sector at the 2014 Fingal Chamber awards.
The judges remarked:
This award was open to all tourism and hospitality business that can show their commitment to the highest levels of hospitality and care to each customer. Mystery shoppers visited each entrant to assess the quality of all aspects of their offering from initial impressions to exceeding customer expectations.
The mystery shoppers who judged this award reported that this winner had provided an outstanding venue for their guests which would appeal to a very wide range of different people. The range and quality of facilities was truly excellent making this a great place to visit.